The Mahala Irrigation Ditch diversion structure is the last downstream diversion on Lakefork Creek, a tributary to Cascade Reservoir. Native rainbow trout spawning in Lakefork were lost upon return by being diverted into the irrigation delivery system. A gravel berm was pushed up to check up water levels for diversion, which dried up the creekbed and also diverted the young fry.

Eight partners worked together to find a solution to this problem of fishery sustainment and water quality. A new structure was designed with a fish ladder, fish screens and water measuring device. The local irrigation district cooperated to install the new diversion and maintain the fish screens.

At a cost of about $37,000 the new structure is credited with saving over 50,000 returning fry, this year alone, to Cascade Reservoir. The project opened up an additional two miles of spawning habitat.

Cooperating partners: Mahala Ditch Company, Valley Soil and Water Conservation District, Idaho Fish and Game, Trout Unlimited, US Bureau of Reclamation, Idaho Division of Environmental Quality, Idaho Department of Water Resources, Natural Resources Conservation Service.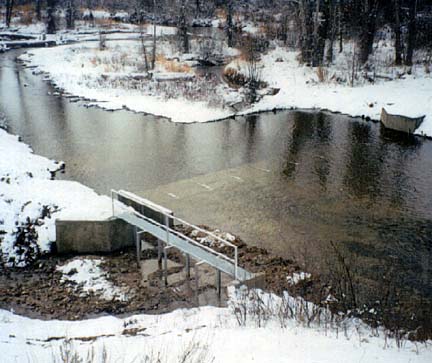 ---